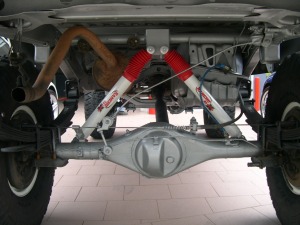 The Snake Racing Toyota Inverted Rear Shock Absorber kit has been designed to invert the shock absorbers on the rear end of your HiLux, or 4 Runner. By inverting the shocks on the rear of your Hilux you can run a longer shock absorber which allows for more wheel travel for off-road driving.
A weld on operation, the kit comes with 1 x upper mount & 2 x lower bomb proof double shear mounts with shock bolts and nuts which is everything you will need except for new longer shock absorbers.
Note - this kit will not be compatible with long range fuel tanks that travel over the top of the rear tail shaft.
To see all suspension upgrades available for your Toyota click on this link If you need help with a custom application email – sales@snakeracing.com.au
Posted by EVAN SPENCE on Jul 10th 2014