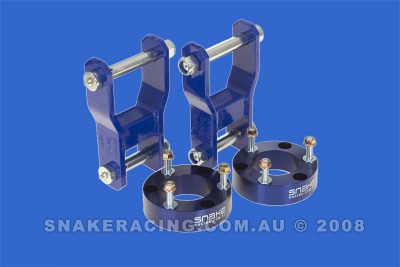 The 05+ Toyota HiLux 4x4 50mm Econo Lift was designed to offer a 50mm lift without the need of changing the suspension.
With more owners wanting that lifted look and larger tyres Snake Racing devised an economical way of lifting the 05+ HiLux when not fitted with typical 4x4 accessories like a bull bar, canopy or carrying heavy constant loads.
05+ HiLux 50mm Econo Lift kit has become a popular way of lifting a 4x4 with those only needing what we refer to as a lift kit over a suspension upgrade.
Lifting your 05+ Toyota HiLux 4x4 with a 50mm Econo Lift kit comes via coil billet alloy strut spacers and extended greasable shackles, all the parts come in a bolt on kit with all fitting hardware included.
If you are intending on adding accessories like a bull bar, carrying loads, towing or the factory suspension has expired, a suspension upgrade package would be required. No matter If you're a tradesman, off-roader, or use your 05+ HiLux for towing Snake Racing has a solution to your suspension requirements.
To see all suspension upgrades available for your 05+ Toyota HiLux 4x4 click on this link If you need help with a custom application email sales@snakeracing.com.au
Posted by EVAN SPENCE on Jul 1st 2014